Tutorial: Using Freebies, Clipping layers
I thought it might be fun to build a tutorial out of freebies.  Creative Market puts out freebies on Monday. I might have gotten extra since I just joined.  It might be 3 is the normal release number. So my challenge is
A. Use  Creative Market freebies (Feb 19-25, on the Feb 26 there will be new ones).  Managed 5 out of 9
B. Use the color in Tourmaline's Color Your world challenge.   It changes weekly so if it's after today, click on her "blog" link and the latest week should show up in the top few posts. As it's Saturday already, I'll probably use the  Februrary 24th prompt is "blush pink"
So let's see what we have. We have three Creative Market font freebies from different creators. Click on images to go to the item, they are free through 2/25/18. Monday is too late.
Flower vector graphics, retro paper textures, and sketch brushes for ProCreate. I don't have ProCreate so can't use that one.
A photo bundle, a perfume bottle mockup and an Instagram Pack. I am not on Instagram so won't be using that one.
Ok, to start, I'll open up an image from the photo pack
1. I am starting with this journal image.
It's a pretty image would be leave as it is with maybe a poem scribbled on the page but today I'm adding stuff from the other freebies.
2.  Cut out the journal to put it on different layer.  Because it's an easy rectangle, I used lasso tool.  Alt-click each corner to slick, then we I completed the rectangle, went to the menu: Layer: New : Layer via Copy.  It copies it into a new layer.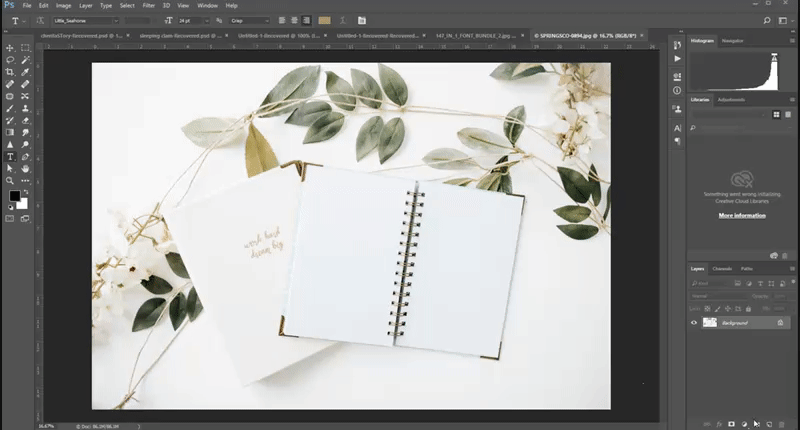 3. Safely on a new layer, I zoomed in closer to clean up the journal.  Because the background is white and the journal has white, tools like magic erase don't work as well because they work better if there is different colors between background and foreground.  So I just use my lasso tool again with the alt-clicks. I get up closer though. If you're using alt-clicks with the lasso tools, the line doesn't touch down again until you click.  It's like it's stuck to your mouse.  So if you pull it down without clicking and go off the frame, the picture will follow you and bring the next section in sight.  The picture will stop scrolling with you when you alt-click again.  I only need to clean up the edges floating over the journal cover as the cover is what I'll be changing.  Also sometimes it's easier if you put a contrasting layer under.  If you make a contrasting layer, don't forget to turn it off.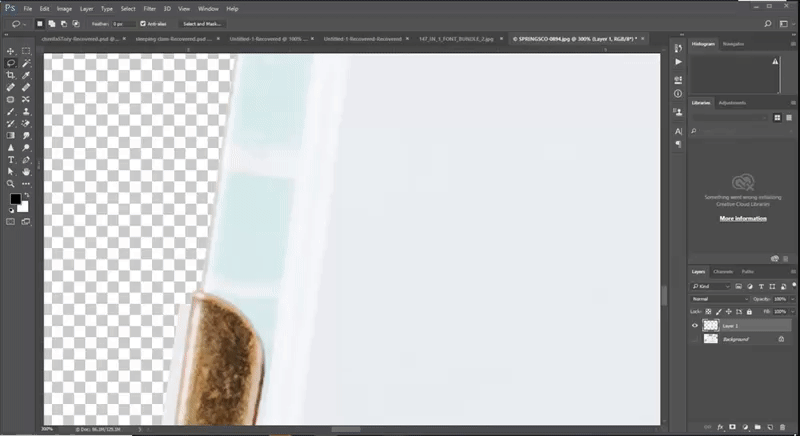 4.  cut out the journal cover.  So go back to the background image and cut out the journal cover.   It is basically step 2 again except I'm making a rougher cut to make sure I get the whole journal cover.  I can do the clean up on the new layer.
5.  Turn on your black contrast layer. Move the journal cover cut out layer untop of my black contrast layer.  Since the background is white and so is the cover, use a Levels adjustment layer to darken the picture a lot so you can see the differences between the whites of the cover versus the background.  Then do your clean up.  Again because the edges are mostly straight, I'm using the lasso tool.
6.  When you're done, get rid of the level layer, turn off the contrast and label your new layers so you know what they are.
7.  Because I am changing the cover, I erase words on the original journal cover by cloning.  The cover has a leather texture which I may so we don't want things to be flat where you erase the words so cloning is better.  Select the stamp off the menu and go to it.  Hit alt-click where you want to clone from.  If you want to make your brush bigger, click "]" and if you want it smaller "[".  I cloned from above for the top sentence and below for the bottom sentence.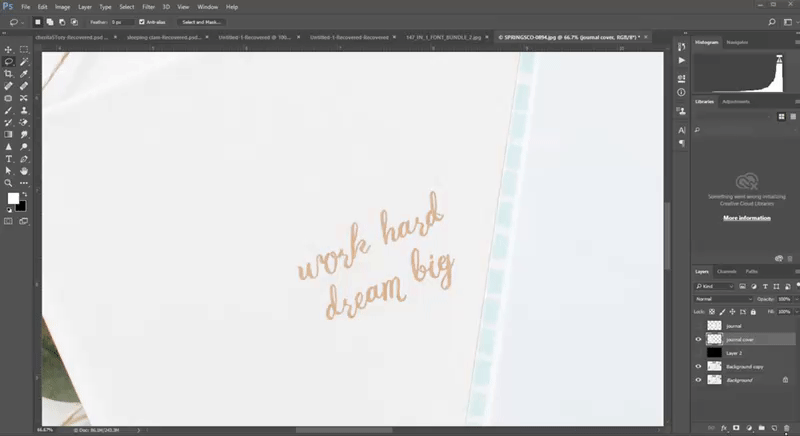 8.  Now I open my floral image and bring it in as a layer. Since the floral layer had extra info, I used the marquee tool to outline what I wanted to keep, went to menu: Select: Inverse and then hit delete or backspace to erase.
9.  the image is a little smaller than the cover so I used to Control-T to resize and to tilt it so it was in the same direction.  Turn off the florals for now because nNow I realize I need to snip off the gold corners on my cut out journal cover.
10. Make a copy of the cover (just in case I want those corners back in the future).  Then on the new journal cover layer, the magic eraser makes short work of getting rid of the gold corners.  The magic eraser is under the eraser tool in the tool bar.  Just right click and you should see it.
11.  I want the floral to be blush pink instead of turquoise as I want it for Color Your World today.  So I use Hues layer to change it to red.  I can lighten in hues but I prefer levels.  So use merge down on the Hues Layer so it becomes one with the floral. Otherwise it would affect all the layers.  Then I use a Level layers to lighten the color.
12.  Turn your floral image back on.  It should be just above the journal cover.  Go to Layers: Create Clipping mask.  It will put the floral into the journal cover.  You can move the floral image as you like until you have it positioned as you like it.  If you don't know "Create Clipping mask", you're going to love it.  It's how you put images into text too. But now you can see why I had to erase the gold corners because now they show from the lower layer.
the Tutorial is getting long so we'll finish up in a jiffy.  I'm just going to pop through the next few steps.
Next add text for a poem.  I used the Little Seahorse font.  It's not a freebie but the font's given this week are display fonts so don't really look like writing.
The freebie perfume bottle had it's different sections open in one file but grouped so it's easy to change things. On the label layer, I put in the floral for the label and used the Alabama font for "Secret Roses"
I added some of the white paper from the retro texture pack to give the image a scratched glass appearance. He put white scratches on clear background so it worked great for this. I just threw them in as layers and moved them around to where I liked them.

I threw in a picture. A rose would have been better I think but don't have one so I just did one of me and erased part of it.

The perfume bottle required a few steps but the others are mostly just paste in the image (becomes a layer) and move them to where you like so thought you might know how to do that already. Still, If you want me to do the how-to steps after 12, let me know and I'll do a Part 2 tutorial.


Note: I use the photography plan which is currently $9.99 a month in the U.S. as of 3/6/18 and includes the use of Photoshop CC 2018, Lightroom and more, including some mobile apps. I love this plan! I don't know how much Adobe charges in other countries though.
Hope you had fun and if you're viewing this on the 24th or the 25th of Feb, 2018, go grab your freebies.
---
References:
I mean to do this for Freebie Friday but it's Saturday.  Close enough.
February 24: Blush Pink
Tourmaline's Color Your world Challenge
Tagged:
#coloryourworld
#coloyyourworld
#cyw
Color Your World Challenge
freebies
Friday Freebies
Photoshop CC
Photoshop tutorial
tutorial