Tutorial : Out of this world
As Daily Post Weekly Photo Challenge theme this week is Out Of This World, I thought I might have some fun with it.  Here is a cactus growing slumped over a pillar which is rather other-worldly in itself.  Actually the cactus reminds me of Oscar, the grouchy monster who lives in trashcan on Sesame Street. I think it's the eyes, laughing.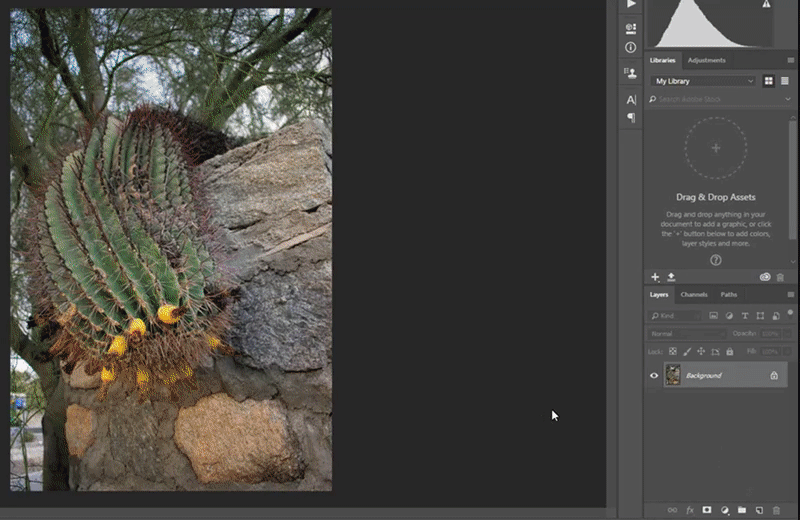 Now I think the quickest way to make something look like it's from another planet is a major color shift because we expect things to be of a certain color.  I like using adjustment layers because you're not changing your base image, just layering changes on top.  (If you want to see the gifs slightly bigger, just right click on them and click on view image)
1. click on adjustment layers (it's the black/white circle on the bottom of your layers palette
2. click on hues
3. use slider shift hues radically to change colors on top row
4. use slider to saturate colors (or desaturate) on second row
5. use slider to darken or lighten image on bottom but it can look like you're losing contrast sometimes
Another way to darken or lighten that I prefer
1. click on adjustment layers
2. click on levels
3. use slider to go left or right to darken or lighten image
4. here you can also increase your amounts of
red/cyan
green/magenta
blue/yellow
They are dyads so if you increase one, you decrease the other.
Under "Preset:", you should see a little window that says "RGB". Clicking in that window, you will get a dropbox allowing you to select "Red", "Green", or "Blue".  Click in each of those and play with the slider until you get the effect you want.  It's also a quick way to do color correction.  For example, something photographed in shadows will often have an overall blue cast.  Going in here and clicking on blue, sliding it to the left towards yellow will often correct things quickly.
And viola! We have an alien plant! So what do you think?  Now you do it — and have fun!  I'd love to see a pingback link if you make something you like.
References:

Out of this World
Weekly Photo Challenge
Daily Post

Color Your World Challenge
March 4 : green
March 8 : cerise  (I had to add it to the challenge as that looks like cerise to me and I couldn't resist)
Tourmaline


Note: I use the photography plan which is currently $9.99 a month in the U.S. as of 3/6/18 and includes the use of Photoshop CC 2018, Lightroom and more, including some mobile apps. I highly recommend this plan if you're into photography or digital imaging utilizing photographs. I don't know how much Adobe charges in other countries though.

Adobe has other plans besides the photography plan if you're interested in more than Photoshop and Lightroom.

I am an Adobe Affiliate so I get a small one-time payment if you join one of their annual monthly programs. Mostly I signed up for it so you all would have an easy clicking point if you're interested.
Tagged:
#coloryourworld
#cyw
adjustment layers
Color Your World Challenge
daily post
digital imaging
Photoshop CC
Photoshop tutorial
tutorial
Weekly Photo Challenge