Tutorial : Topaz — an introduction to an awesome app that transforms photos and images
This one is all Winter's fault. He showed me  Topaz Studio. Totally amazing! And even better they give you the app for free with lots of stuff already on it.   So this tutorial is just using some of the free stuff that comes with it.  There are also plug-ins you can buy that expand it's capabilities.
First go to Topaz Labs and download the free Topaz Studio app.  So this next bit picks up after you've downloaded, installed and opened it.  (It opens with a 7 image slideshow to introduce you to it's interface.  It's a good idea to watch it, of course.  Topaz also has a lot of tutorials on their site)
The first screen looks like this.

Drag and drop a photograph into the center.  Or click "open" and navigate to your picture.
In my case, I opened up a jpeg of Kris's dog.
When you do that 4 things happen:
a big version of the picture pops into the middle top
a thumbnail version pops into the middle bottom
a bunch of filters pops up on the left
modulators for the active filter pops up on the right
Honestly, just try the different filters on the left until you find something you like.  But let's set it up first so you can do compare and contrast.  Above the middle thumbnail, on the right side of the bar is a "duplicate" button.  Hit that three times.  Now you have four.  This way you can add a different effect to each one.

So I am going to keep my first image pristine.
Click on your second image.
Click on a filter on your right. So let's start with something easy. In the image below after I clicked on the second dog, he is highlighted in blue.
Click on Monochromatic.  You will get a bunch of new filters showing on the left — these are the filters under Monochromatic
Using the scrollbar on the left, scroll down to Old Western.  Click on that.  It will change your big top middle picture and the thumbnail you have clicked.  If you export now, this is the image you will export.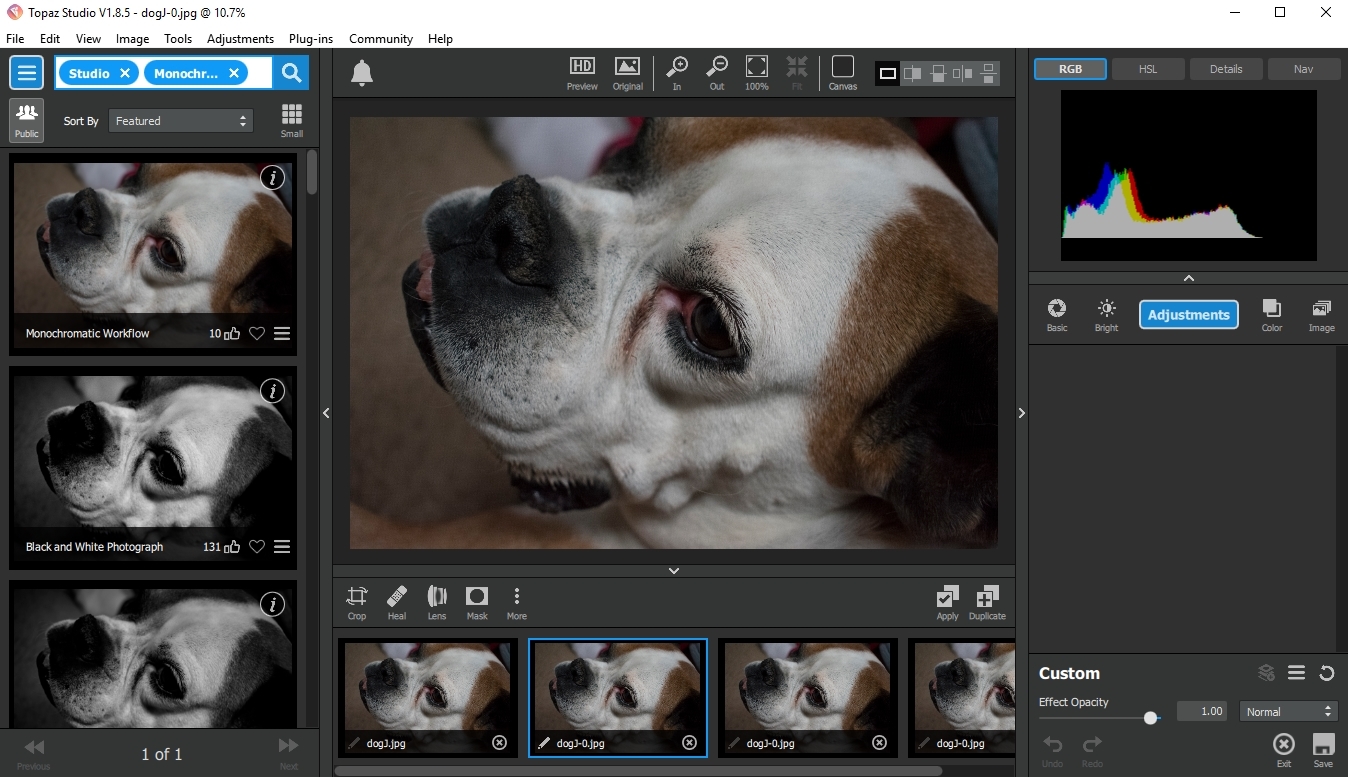 You can scroll down further to see more Monochromatic filters or you can go back to your original list.
Now let's click on pic #3 so we have 1 original and 1 sepia tone one. We will now be working with #3
To get back to your original list, at the top left of the left filter menu, you will see a blue box with three lines.  Click the blue box with three lines and the original filter list should show up.
On the original filter list, scroll down to Impression.  These filters have more of an artistic effect.  Scroll down until you see something you like.  For now, click on Cave Dweller IV.  See how your pic suddenly looks like a pencil drawing?
Click on photo #4.  Drop all the way down and click on Renoir I  (of course, there is Cezanne, Degas, Hopper, Monet, Rembrandt that you will see along the way–take a peek)
So let's go ahead and pull out the Renoir pic.  Hit that Apply button (next to duplicate).
Go to File : Save As.  (I add "renoir" to the name so I know what the effect is.)
It will ask you what Image Quality.  I always choose Max.  It's the biggest file.  You can always shrink something down but generally it doesn't look as good expanding an image.
And there you go. An awesome special effects application like Topaz can transform your images. Some of the filters are corrective types to shift the color balance on the image, while others are transformative. And when you are ready, they have a ton more plug-ins that you can buy to add to your repertoire.
Have fun.
Tagged:
digital imaging
Topaz Studio
TopazLabs
tutorial