Tucson Writers' Thursday Blogging Meet : Writer's prompts & WordPress pingbacks
Table of Contents:   Writing Prompts/Challenges   ——    Photography Prompts/Challenges  —–  WordPress Pingback tutorial
Writers' & Photography Prompts
When you are new at writing a blog, it's good to post frequently.  One main reason is that you are building consistency in your writing habit.  It's a lot like joining a gym.  In the beginning, you're all excited and go all the time any time you're free.  Then you don't go as frequently. Then come the excuses and the reaffirmations.  What helps to keep going is building consistency.  If you know you are going every Tuesday, Thursdays and Saturdays at 7am no matter what, then that consistency helps pull you through the days when you want to snooze.  You just go no matter what.  Writing is a muscle: it needs consistent exercising.  Keep writing at your designated times —  you'll reach that stage where it's addictive and you're itching to write.   Quality, initially, is probably going to be erratic — sometimes brilliant — sometimes not so much.  Later in your blogging life you'll probably write longer posts, less often and more consistently of a higher quality but for now :  write, write, write.

And just like in a gym, what helps you to stay consistent is a partner.  Writer's prompts/challenges is one way to share writing with writing partners.  Writing prompts/challenges creates a community of writers focused around the same prompt, meeting at the same "place." Also it helps build an audience for a writer if you are a new blogger.
Prompt/challenge etiquette asks that you tag your post appropriately. You will need to leave the link of your contribution through a pingback, Mr. Linksys or in the comments depending on the challenge. Also do visit contributions by the other writers, leaving a comment or a like to encourage writers — you don't have to do that for ones you don't care for but there are usually enough contributions that you'll find some to enjoy.  If you leave a comment, say something nice or pertinent.  Most people are not looking for critiques.  If you hate something, just move on — no need to snark. Below are various writer prompts/challenges. I am including photography prompts too.


Writing Prompts
(primarily poetry, fiction although a few are any writing)
Sites with more than one a week writing prompts:
Color Your World :  Each day of the week is a different color prompt.  Post anything (art, writing, photography, anything) inspired by the color of the day.
Mindlovemisery's Menagerie : a variety of prompts by different folks. A variety of days change weekly so visit the site to see the latest prompt for the day you are interested in.
Sunday:  Sometimes it's a "choose a title" as a prompt from a list of titles; sometimes it's a thematic prompts such as "creation mythologies/myths"
Monday: Wordle (a list of 12 or so words and you have to use at least 10 to create a story or poem)
Tuesday: Photo prompt (write something inspired by the photo shown)
Wednesday:  write a Haiku/Tanka to a word or theme prompt
Thursday: Tale Weavers — A fairy tale image with some questions that you can write your own fairy tale to.
Every other Friday:  Music prompt (write something inspired by the music — usually a you-tube video but may be an audio clip)
Every other Friday:  First Line Fridays (a line or lines are given to you to start your writing and you go from there)
Saturday: Saturday Mix (a list of generally 5 words.  You have to use them all or use their synonym or antonym depending on the challenge.)
Imaginary garden with real toads : a variety of prompts by different folks.  A variety of days change weekly. Some challenges show up sporadically so not listed here. Visit the site to see the latest prompts. Most days they will have a challenge.
Sunday:  Sunday Mini-Challenge
Tuesday:  Tuesday Platform.  You can use the prompt or put up any poem you want.
Friday:  Fireblossom Friday.  A word or a phrase prompt.  Flash fiction or any poetic form except haiku.
Saturday: Format challenges : write in the specified poetic form
Dverse Poet's Pub (poetry only)
Every other Monday : Quadrille.  Write a quadrille to the prompt
Every other Monday : Haibun Mondays.  Write a haibun to the prompt.  A haibun is a haiku accompanied by a short paragraph of prose. The prose maybe autobiographical, travel journal, about a place, dreamlike, or essay.  It varies a lot.  See Haibun on Wiki for a better description.
Tuesday : Poetics
Every Other Thursdays : OpenLinkNight.  There's a poetry prompt but also an active chat night which starts at 3pm.
Every Other Thursdays : Meeting the Bar/Form. Usually focuses on an aspect of poetry like symbolism, the use of silence or on a poetic form.
Poets United
Has a lot of different prompts although not all weekly, if you check weekly, you will find at least a prompt or two that week though it may vary which prompt series.  Includes:
The Living Dead, Midweek Motif, Verse First, Poetry Pantry, and others
Yeah, Write
For categories: Nonfiction, mostly true stories  and Fiction/Poetry: Sunday is kickoff post, Monday-Wednesday add submissions (Add site badge to your writing, then add link to Linksys). Submissions close Wed 10pm.  Thursday popular vote closes at 10pm. Fridays announcements of popular vote winners and staff picks.
Friday 6pm starts  Weekend Writing Showcase
First Wednesday each month: MicroProse Challenge
Sites with daily writing prompts
Daily Prompts, Daily Post.  Use the one word a day as the theme to inspire your writing. Wide variety of writing types and includes photography posts as well.
Carpe Diem Haiku Kai.  A phrase or something more to inspire you to write a haiku, tanka or other Japanese poetic form depending on the challenge
Putting My Feet in the Dirt.  Posts prompts once a month.  Lists all the month's days and the prompt for each day either two words or a phrase.
Weekly writing prompts by day posted. 
(Generally best to respond on the day posted but you can usually add your response for the week)
Sunday : Haiku Horizons. One-word prompts.  Given on Sundays but noticed in December, a couple times was a little late so if you don't see it, check back.
The Sunday Whirl.  A wordle prompt.  Try to use all the words but not required.  Post your link in the Mr.linksys.
Monday : Ronovan Writes.  Weekly two-word haiku challenge.
Share your World. 4 questions are posted each week.
Tuesday : Colleen's Poetry Challenge.  Weekly two-word challenge.  Forms listed: haiku, senryu, tanka, haibun, cinquain
Twittering Tales.  Photo prompt — write a story to the photo in 280 characters or less.
Wednesday :  100 Word Wednesday. You may use image provided as a photo prompt or use your own image.
One-line Wednesday.  #1linerWeds.  One line, funny or inspirational.
Weekly Tanka Challenge. Two-word challenge. If it's not Wednesday, you'll probably have to scroll down.
Thursday : Three Line Tales.  Write a 3-line story, maximum 100 words, to a photo prompt.
Thursday Photo Prompt. #writephoto. Photo prompt.  No word or style limits but keep it "fairly family friendly"
Friday : Friday Fictioneers. Photo prompt, maximum 100 words.
Friday 55.  Has to be exactly 55 words, prose or poetry. No rules or prompts — just keep to the word count. Add links in comments Friday-Sunday. Usually comes out on Fridays but the Holiday edition on 12/22/17 covers 3 weeks.  You may have to scroll down to the latest Friday post.
Saturday : Stream of Consciousness Saturday.  Prompts posted on Friday.
Weekend Writing Prompt. Prompts vary each week.
Curious as a Cat has a list of blog hops broken up by days.  Some have prompts.
Monthly writing prompts
Story A Day.  Monthly prompts.  Sometimes timed.  Sometimes with a goal — send it in to a magazine, etc.
Weekly Photography Challenges
(listed by day posted but generally you can add your response for the week)
Sunday
Black & White Sunday. Getting sporadic.  Sometimes weekly, sometimes once a month.  Last one was December 3rd (as of 1/4/18)
Monday
Awww, Mondays.  Comedy Blogspot.  Post any picture that makes you say "Awwww." On Mondays, it'll be at the top.  Other days, you might have to scroll down a little.
Tuesday
Cee's Fun Foto Challenge : a photograph to the prompt.  Involves a letter but not always in a beginning.  Like recently: a photograph of anything that has two T's in the word, photograph of something with a color that starts with S.
Dutch goes the Photo Tuesday Photo Challenge : prompts range from objects (bridge, pets) to more abstract (quotidian, recycle, message)
Wednesday
Photography Challenge, Daily Post
Wordless Wednesdays : whatever you want but no words.  Picture has to speak for itself.
Thursday
Cee's Black & White Photography Challenge : prompts range from objects (toys, water) to more abstract (texture, lines, arches)
Thursday's Special : generally one-word or pick-a-word prompts
Friday
Feline Fridays.  Comedy Blogspot.  Post any picture, drawing, video, or cartoon of a cat. On Fridays, it'll be at the top.  Other days, you might have to scroll down a little.
Creating WordPress Pingbacks
I use WordPress so am not familiar with other blogging platforms.  This may or may not work on other blogging platforms.
First make sure Pingbacks is enabled
On the menu
click on Settings
click on Discussion
at the top of the page, click this box so an "x" shows "Attempt to notify any blogs linked to from the article"
Pingbacks only work on links that point to a specific post.  Anytime you link to a specific post, once pingbacks is enabled, when you publish a post, it will notify the website's post of the pingback in the comment section.
To create a link, there are two ways
Easiest method
On short cuts, Windows uses Control C or Control V.  Mac/Apple users use Command-C or Command-V.  Use whatever shortcut works on your system.
Copy the link   (Highlight the url.  I either click and drag or click 3times to highlight the whole line. To copy, hit Control-C or use the Edit menu for Copy)

Highlight the text you want to link

Paste the link with Control V. (for some reason, if if I use the Edit menu to click on Paste to paste in a link, it won't work.  I have to use Control V)

You will know if you succeeded if an underline appears under your link.  Some themes don't do underlines but may change the font color of the link

Click on the little pencil icon if you want to add options like opening in a new tab or change the url.  Do not click the broken paperclip icon — it will unlink the url

One more step to get to more options.  Click on the gear icon (gear icon shows up after you click the pencil icon)

Click on "open link in new tab" if you want a new tab to open when your reader clicks on a tab
Gif image shows the options when I created a link on "Senryu : Bell"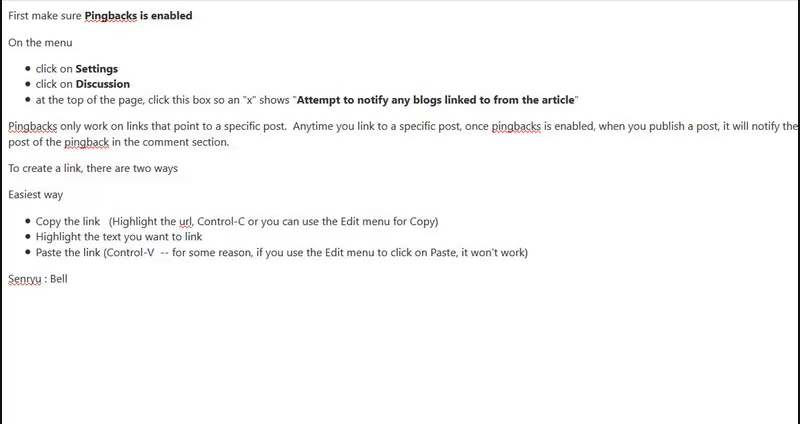 Now what I've linked to that page, when I click on "Publish" a pingback will appear in the comments of that post.  Some people moderate comments so while pingbacks are automatically sent, it doesn't mean they automatically appear.
A pingback usually looks like this:

 Method 2 to create pingbacks when given html
Daily Post and others will give you an html link to use for pingbacks.  HTML links are a little different.  Usually you work in the Visual side of Blog Post Edit area.  With html, you work on the Text side.
 Copy the given html.  Here I am copying the html from the Daily Post site.



Switch to your Text Side

Paste the html url.  You're done.

Switch back to your Visual side to continue working
In the little gif, you can see I go to the Text side (upper right hand corner of Blog Post Edit section), paste in the html at the bottom and when I go back to the Visual side, you can see the link "Viable"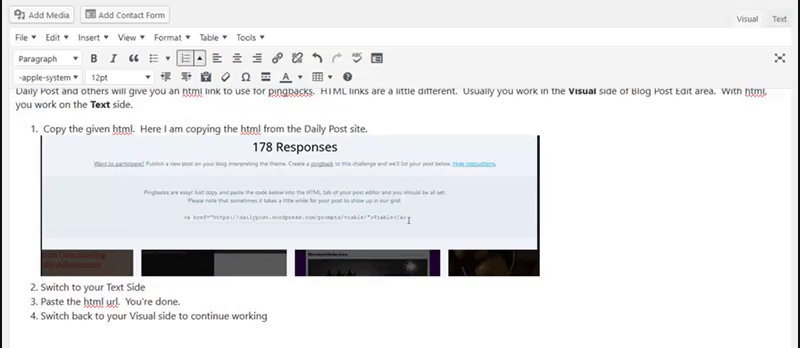 Tagged:
photography prompts
pingbacks
tutorial
WordPress
writing prompts